This Guy Nearly Died After a Motorcycle Accident. Now He Deadlifts 405 Pounds.
Ryan Logue, 34, remembers the 24 hours before his motorcycle accident in 2014.
He and his girlfriend had gotten into a big fight. "The morning of the accident I went in the room. Kissed my girlfriend, apologized, and told her I loved her," Logue says.
And then he went off to work, on his motorcycle, like any other day. At lunch, he left to head home and see his newborn son. But on his way, a garbage truck pulled out in front of him. Logue says he recalls hearing a loud crash.
Before the medics arrived, Logue assumed death. Luckily, two men saw him. "They realized I had bubbles coming from my mouth, grabbed a first-aid kit, and helped clear my airway until medics arrived," Logue says.
On his way to the hospital, Ryan had several mini strokes. Medical professionals had to induce him into a coma to increase his chance of staying alive.
The Tribulations of Recovery
Logue woke up three weeks later, unable to say anything or move.
"That first day when I was mostly conscious, my family gave me a laptop and played the Fox News segment about the crash. I couldn't believe that was me. My brain was slow, emotions running wild, and I couldn't speak."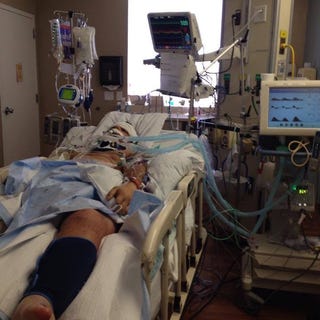 Ryan Logue
Logue's injuries were extensive. "I remember hearing a few times my medical bills where about 1.5 million," he says.
An incomplete list of his injuries include: an open skull fracture ("literally a hole in my head"), open tibia, open fibula fracture, open pelvic fracture, broken ribs, severe broken sternum, bilateral elbow fracture, lacerations on spleen, and water in lungs.
Logue spent a month in the hospital before he was released. His mobility improved. His first month he was in a wheelchair. Eventually moved up to crutches, and then a cane.
The Surprise of Another Setback
As Logue's need for assistance with walking decreased, he noticed something else was increasing. "I had been eating ice cream and fast food almost every night. Before I knew it, I was over 200 pounds and 30 percent body fat and I'm only 5'6. I was holding my breath to put on my shoes because of my limited range of motion and belly fat."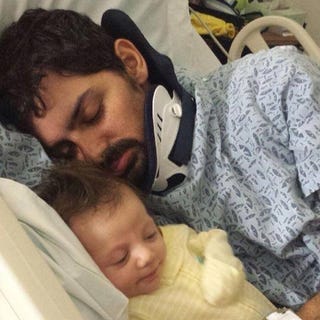 Ryan Logue
The weight came on quick, but the realization he had to do something about it came another year later. "I was so tired of hurting and feeling slow," he says.
The Second Comeback
In 2016, Logue called his friend and fitness coach Cara Mahon. Mahon recommended Logue start weight training. At first, Logue was skeptical, because of his injuries, but he went along with it.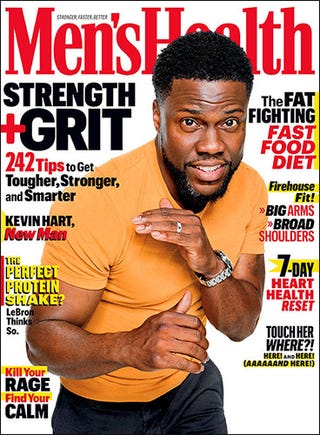 Subscribe to Men's Health
SHOP NOW
Before the accident, diet and exercise were far from the forefront of Logue's priorities. "It felt like it was more of a chore, than anything," he says.
But after the accident, through working with Mahon, and spending more time in the gym, Logue realized he had a passion for fitness.
The Breakthrough
"I realized, I want to see as many people as I can healed and set free through health and wellness. We were training my legs and I said to Cara, 'If I could be in the gym all day, motivating and encouraging people, why wouldn't I do that?'"
Mahon helped Logue find out how to get started as a personal trainer. He immersed himself with information. And when he was 32, he earned his certification.
The Rewards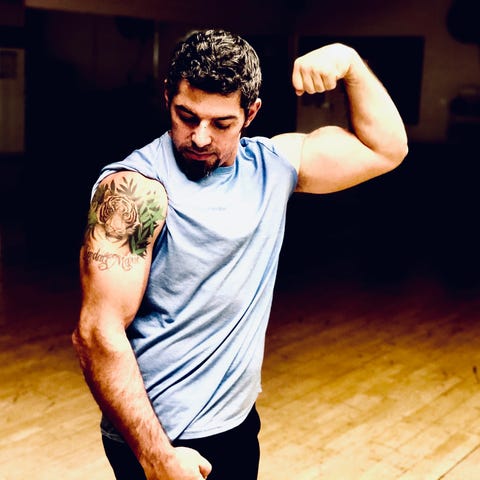 Ryan Logue
Now, Logue is a certified fitness coach who's married with five kids. He says clients and people he meets are amazed by his transformation. "People even today are still shocked at what is possible. That as 'broken' as I was, I can be a fitness trainer. But I believe 'limitations' can always be overcome."
Recently, Logue reached a new personal goal of deadlifting 405 pounds. And he's interested in competing in bodybuilding in the next year or two.
But for now, Logue says he's exponentially happy feeling like he has a purpose.
"Seeing people healed and set free through health and wellness is a dream," he says. "I believe I'm alive to encourage and inspire as many as possible."
Source: Read Full Article