Telehealth Visits Could Help More if Restrictions Eased: Study
Five percent of traditional Medicare patients who had telehealth visits were seen virtually by out-of-state clinicians in the first half of 2021, according to a new study in JAMA Health Forum.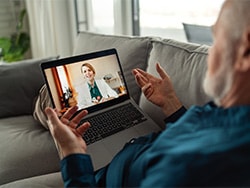 Since then, however, many states have restored restrictions that prevent physicians who are licensed in one state from having telehealth visits with patients unless they're licensed in the state where the patients live.
This is not fair to many people who live in areas near state borders, the authors argue. For those patients, they noted, it is much more convenient to see their primary care physician in a virtual visit from home than to travel to the doctor's office in another state. This convenience is enjoyed by most patients who reside elsewhere in their state, they noted, because they're seeing physicians who are licensed there.
Moreover, the paper said, patients who live in rural areas and in counties with relatively few physicians per capita would also benefit from relaxed telemedicine restrictions.
Using Medicare claims data, the researchers examined the characteristics of out-of-state (OOS) telemedicine visits for the 6 months from January to June 2021. They chose that period for two reasons: by then, healthcare had stabilized after the chaotic early phase of the pandemic, and in most states, the relaxation of licensing rules for OOS telehealth had not yet lapsed. Earlier periods of time were also used for certain types of comparisons.
Among fee-for-service Medicare beneficiaries, the number of OOS telemedicine visits peaked at 451,086 in April 2020 and slowly fell to 175,545 in June 2021, according to the study. The fraction of OOS telehealth visits among all virtual visits was 4.5% in April 2020 and increased to 5.6% by June 2021.
Staying Close to Home
Of all beneficiaries with a telemedicine visit in the study period, 33% lived within 15 miles of a state border. That cohort accounted for 57.2% of all OOS telemedicine visits.
The highest rates of OOS telehealth visits were seen in the District of Columbia (38.5%), Wyoming (25.6%), and North Dakota (21.1%). California (1%), Texas (2%), and Massachusetts (2.1%) had the lowest rates.
Though intuitive in retrospect, the correlation of OOS telemedicine use with proximity to state borders was one of the study's most important findings, lead author Ateev Mehrotra, MD, a professor at Harvard Medical School, told Medscape Medical News. "It makes sense," he said. "If you're in DC and you need a cardiologist, you don't think, 'I'll stay in DC.' No, Maryland is right there, so you might use a Maryland cardiologist. Now you're out of state, even though that office might be only half a mile away from you."
Similar dynamics, he noted, are seen in many metropolitan areas that border on other states, such as Cincinnati; Philadelphia; and Portland, Oregon.
This finding lines up with another result of the study: The majority of patients who had OOS telemedicine visits had previously seen in person the doctor who conducted the virtual visit.
Across all OOS telemedicine visits in the first half of 2021, the researchers observed a prior in-person visit between March 2019 and the date of the virtual visit with the same patient and the same clinician in 62.8% of those visits. Across all in-state telehealth visits, 75.8% of them were made by patients who had seen the same clinician in person since March 2019. This preponderance of virtual visits to clinicians whom the patients had already seen in person reflects the fact that, during the pandemic, most physicians began conducting telehealth visits with their own patients, Mehrotra said.
It also lays to rest the concern that some states have had about allowing OOS telemedicine visits to physicians not licensed in those states, he added. "They think that all these docs from far away are going to start taking care of patients they don't even know. But our study shows that isn't the case. Most of the time, doctors are seeing a patient who's switching over from in-person visits to out-of-state telemedicine."
More Specialty Care Sought
The dominant conditions that patients presented with were the same in OOS telemedicine and within-state virtual visits. However, the use of OOS telemedicine was higher for some types of specialized care.
For example, the rate of OOS telemedicine use compared with all telemedicine use was highest for cancer care (9.8%). Drilling down to more specific conditions, the top three in OOS telemedicine visits were assessment of organ transplant (13%); male reproductive cancers, such as prostate cancer (11.3%); and graft-related issues (10.2%).
The specialty trend was also evident in the types of OOS clinicians from whom Medicare patients sought virtual care. The rates of OOS telemedicine use as a percentage of all telemedicine use in particular specialties were highest for uncommon specialties, such as hematology/oncology, rheumatology, urology, medical oncology and orthopedic surgery (8.5%). There was less use of OOS telemedicine as a percentage of all telemedicine among more common medical specialties (6.4%), mental health specialties (4.4%), and primary care (4.4%).
Despite its relatively low showing in this category, however, behavioral health was the leading condition treated in both within-state and OOS telemedicine visits, accounting for 30.7% and 25.8%, respectively, of those encounters.
States Backslide on OOS Telehealth
Since the end of the study period, over half of the states have restored some or all of the restrictions on OOS telemedicine that they had lifted during the pandemic.
According to Mehrotra, 22 states have some kind of regulation in place to allow an OOS clinician to conduct telehealth visits without being licensed in the state. This varies all the way from complete reciprocity with other states' licenses to "emergency" telemedicine licenses. The other 28 states and Washington, DC, require an OOS telemedicine practitioner to get a state license.
Various proposals have been floated to ameliorate this situation, the JAMA paper noted. These proposals include an expansion of the Interstate Medical Licensure Compact that the Federation of State Medical Boards organized in 2014. Since the pact became effective in 2014, at least 35 states and the District of Columbia have joined it. Those states have made it simpler for physicians to gain licensure in states other than their original state of licensure. However, Mehrotra said, it's still not easy, and not many physicians have taken advantage of it.
One new wrinkle has emerged in this policy debate as a result of the Supreme Court decision overturning Roe v Wade, he noted. Because people are using OOS telemedicine visits to get prescriptions to abort their fetuses, "that has changed the enthusiasm level for it among many states," he said.
JAMA Health Forum. Published online September 16, 2022. Full text
Ken Terry is a healthcare journalist and author. His latest book is "Physician-Led Healthcare Reform: A New Approach to Medicare for All."
For more news, follow Medscape on Facebook, Twitter, Instagram, and YouTube
Source: Read Full Article