Sand running can supercharge your fitness. Here's how to start
While the backdrop might be Insta-worthy, sand running is one of the most gruelling types of running you can do.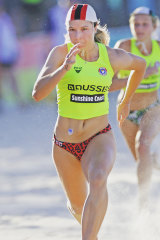 Sophie Watts, the Australian Women's' Surf Life Saving beach sprint title holder says soft sand workouts are much harder than running on other surfaces including grass.
A study from the Western Australian Institute of Sport found that running on sand forces your body to work at least 10 per cent harder than it does on grass, and research from Belgium concluded that running on sand requires 1.6 times as much energy as running on hard surfaces.
"Sand running is a good option when you need a lower-impact session but still want a hard workout," says Sophie Watts, the Australian Women's' Surf Life Saving beach sprint title holder.
"Training on soft sand is where you'll get the hardest workout, but even firm sand near the water's edge will get your blood pumping."
So, why is sand running more challenging than other terrains?
Watts says it's because sand is so uneven and unstable.
"When running on a firm surface, the force you exert into the ground is transferred back through the foot and leg to help propel you along," explains Watts.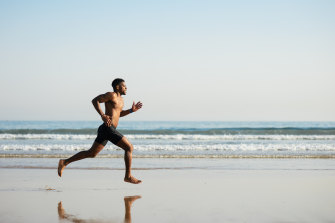 Even firm sand near the water's edge will get your blood pumping, Sophie Watts says.Credit:iStock
"On sand, the surface is so unstable and there's no energy return, so your body has to work much harder to push you off for the next step. You end up using muscles that you might not need as much when running on a hard surface, such as the stabiliser muscles around the ankles, knees and hips."
Given the higher workload running on sand demands, it's normal to experience fatigue earlier than road running. However, Watts says that running on the beach – especially on soft, dry sand – can lower your odds of impact-associated overuse injuries like stress fractures.
"The impact load on the body is much less from soft sand running, so it can be kinder to the joints, muscles and tendons," says Watts.
Research backs this up. In one study, women who ran on sand experienced less muscle damage and inflammation than those who ran on grass. And further research from Western Australian Institute of Sport found that with every foot strike, there is almost four times less impact force on soft sand compared to a firm surface like grass.
Other benefits of running on sand include that it helps to build strength in the calf and quadriceps, which are both important for running on any surface, as well as the gorgeous view and no crowds.
Getting started
Although it might be easier to run on, don't opt for running on the hard-packed sand at the water's edge because this sand is usually on an incline, which can cause you to change your technique and get injured. Instead, choose flat, even soft sand, and take your shoes off to grip the ground.
Sand running sessions should be shorter than other training runs. Start your training with a 10 or 15-minute jog along the sand and gradually increase both the time and number of sessions over the next few weeks.
The ideal sand running technique
Point your feet down. Dig your feet into the sand to help you push off. This requires a "pointed foot" technique that puts a lot more stress on your calf muscles. If your calf muscles tire or start cramping run for a minute with more of a flat-footed technique to allow them rest before resuming the pointed foot technique.
Scrunch your toes. Get a good grip on the sand by scrunching your toes. This technique also helps to avoid abrasion underneath your toes or pain in your feet.
Stay tall and activate your core. Turn on your abdominal muscles and try to stay upright with not too much of a forward lean as the instability of sand makes it easy to topple over, especially once you start to get tired.
Shorten your stride. Stay light on your feet and shorten your stride to increase your cadence (steps per minute). This will help you stay on top of the sand and not get bogged down. Run with more of a mid-knee lift to reduce fatigue and pump your arms to stay balanced.
Make the most of your health, relationships, fitness and nutrition with our Live Well newsletter. Get it in your inbox every Monday.
Most Viewed in Lifestyle
From our partners
Source: Read Full Article