Rise early: How to survive the end of daylight saving in a pandemic
At 3am on Sunday, clocks will wind back and much of Australia will get an extra hour of shut-eye.
It's well known that the shift to darker months can impact on mental wellbeing. In fact, almost one in three people will experience depressive symptoms, according to Greg Murray, director of Swinburne University's Centre for Mental Health.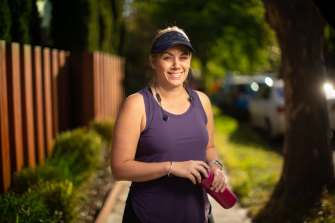 Sarah Mikolas, 36, is considering changing her running schedule.Credit:Simon Schluter
While those prone to winter blues are ordinarily advised to maintain their summer lifestyle by scheduling plenty of social engagements and exercise, COVID-19 restrictions add a further challenge as we are urged to stay home, maintain social distance and keep outdoor gatherings to a maximum of two people.
But despite being unable to attend the gym or socialise with friends, Professor Murray says we can still take part in activities that benefit our wellbeing by simply changing our approach.
"When there are challenges on top of challenges, it's easy for us to think, 'Oh well, this is all getting too hard, I'm getting a message from the universe that I just have to give up a bit'," he says.
"My response is, 'no, the message you're getting is that this is going to require a bit more creative problem solving'."
Sarah Mikolas, 36, of Elwood runs at least 10 kilometres a week. She usually attends a running event every Saturday and does regular indoor cycle classes, but both are now cancelled.
Lately, she says it's been getting darker on her morning runs and more joggers are competing for a limited stretch of daylight. She's now considering changing her running schedule.
"Everyone really needs to be a little bit smarter and conscious about other people," she says.
Professor Murray says unpacking the benefits an activity provides can help determine how each perk may be replaced in other ways.
For example, a morning jog could play an important role for someone's wellbeing, not just for exercise, but the social banter at the cafe and the sunrise on the way.
Instead, you could move your exercise indoors, watch the sunrise from the backdoor and meet virtually with a friend for a morning coffee.
Professor Murray says we can still get the sunshine we need in a time of reduced daylight hours and coronavirus restrictions. It may just mean getting out earlier – and taking a warm jacket and umbrella with you.
"We can still go outdoors, and the daylight available in winter is sufficient to keep our biological clock synchronised," he says.
"Try to get daylight earlier in the morning, and ideally combine it with some exercise."
Technology can also help us stay socially connected, with video chatting apps such as Zoom and Houseparty surging in popularity. Why not sit outside and catch up with a friend over lunch?
"All of a sudden, people are realising how profound and beneficial that is," Professor Murray says.
Likewise, an alternative to that evening yoga class you love could be done online.
Professor Murray says it's important to remain open, and not assume your preferred way is the only way you will enjoy an activity.
It is when we're challenged, he says, that we sometimes discover the resources we have.
Get our Coronavirus Update newsletter for the day's crucial developments at a glance, the numbers you need to know and what our readers are saying. Sign up to The Sydney Morning Herald's newsletter here and The Age's here.
Source: Read Full Article