New Data Show COVID Telehealth Pivot by Patients, Physicians
Editor's note: Find the latest COVID-19 news and guidance in Medscape's Coronavirus Resource Center.
Telehealth use, although much higher than before the COVID-19 pandemic, accounted for less than 20% of weekly outpatient visits 6 months into the pandemic, according to a new report from the American Medical Association (AMA). Ten percent of weekly visits were conducted via videoconferencing, and 8.1% of visits were conducted using the telephone.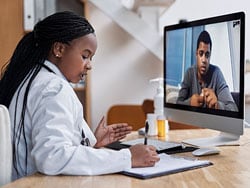 Those figures may overstate the true level of telehealth use in fall 2020. A study by the Commonwealth Fund, Harvard University, and Phreesia found that in December of that year, only 8% of outpatient visits involved the use of telemedicine — and that was up from 6% in October. In contrast to the AMA results, which came from its 2020 benchmark survey of physicians, the Commonwealth Fund study used data from practice management systems and an online patient registration platform, as well as electronic health record data.
A more recent survey of hospital executives found that as of September 2021, hospital telehealth visits had leveled off at 10% to 20% of appointments. Similarly, a McKinsey survey in July showed that telehealth encounters made up 13% to 17% of evaluation and management visits across all specialties.
Big Jump During Pandemic
The AMA report offers a wealth of data on how physicians use telehealth and the differences between specialties in this area.
The report found that 70.3% of physicians worked in practices that used videoconferencing to provide patient visits in September 2020, compared to 14.3% of physicians in September 2018. Sixty-seven percent of physicians worked in practices that used telephone visits (the comparable figure for 2018 was unavailable).
Overall, 79% of physicians worked in a practice that used telehealth, compared to 25% in 2018.
Not every doctor in practices that utilized telehealth conducted virtual visits. In contrast to the 70.3% of doctors who were in practices that had video visits, only 59.1% of the respondents had personally conducted a videoconferencing visit in the previous week. The average numbers of weekly video and telephone visits per physician were 9.9 and 7.6, respectively, including those who did none.
There were big differences in virtual visit use among specialties as well. Eighty-five percent of psychiatrists were in practices that provided online appointments, according to the AMA survey, and three quarters of primary care physicians said their practices offered telehealth appointments. Pediatricians were much less likely than family practice/general practice physicians (FPs/GPs) or general internists to do so.
The practices of many medical specialists were also highly likely to provide telehealth. Over 75% of practices in cardiology, endocrinology/diabetes, gastroenterology, nephrology, and neurology offered telehealth visits. About 88% of hematologists/oncologists offered video visits. Far fewer surgeons reported that their practice used virtual visits; the exceptions were urologists and dermatologists, 87% of whose practices used telehealth.
How Telehealth Was Used
Across all specialties, 58% of physicians said clinicians in their practices used it to diagnose or treat patients; 59.2%, to manage patients with chronic disease; 50.4%, to provide acute care; and 34.3%, to provide preventive care.
Seventy-two percent of FP/GP and pediatric practices used telehealth to diagnose or treat patients. Just 64.9% of internists said their practices did so, and only 61.9% of them said their practices provided acute care via telehealth, vs 70% of FPs/GPs and pediatricians.
Among medical specialties, endocrinologists/diabetes physicians were those most likely to report the practice-level use of telehealth to diagnose or treat patients (71.9%), manage patients with chronic disease (92.1%), and provide preventive care (52.6%).
Significantly, 33% of medical specialists said their practices used remote patient monitoring. This finding was driven by high rates of use among cardiology practices (63.3%) and endocrinology practices (41.6%). Overall, the practice-level use of remote patient monitoring rose from 10.4% of practices in 2018 to 19.9% in 2020.
Virtual Consults With Peers
Some practices used telehealth to enable physicians to consult with colleagues. Twelve percent of respondents said their practices used telehealth to seek a second opinion from a healthcare professional in 2020, compared to 6.9% in 2018. Formal consultations via telehealth were also increasingly common: 17.2% of doctors said their practices did this in 2020, compared to 11.3% in 2018.
Also of note, 22.4% of physicians said their practices used telehealth for after-hours care or night calls in 2020, vs 9.9% in 2018.
The AMA report credited telehealth and expanded coverage and payment rules for enabling physician practices to keep their revenue streams positive and their practices open. However, the Commonwealth Fund study found "a substantial cumulative reduction in visits across all specialties over the course of the pandemic in 2020." These ranged from a drop of 27% in pediatric visits to a decline of 8% in rheumatology visits during the period from March to December 2020.
Ken Terry is a healthcare journalist and author. His latest book is "Physician-Led Healthcare Reform: A New Approach to Medicare for All."
For more news, follow Medscape on Facebook, Twitter, Instagram, and YouTube.
Source: Read Full Article