Health regulator accused of 'gaslighting' butchered patients
A growing number of Australians have been "butchered" by rogue cosmetic surgeons operating with little fear of punishment because of the complete failure of the national health regulator, a Labor senator has said.
As a crisis in the cosmetic surgery industry reaches tipping point, Senator Deborah O'Neill has accused the Australian Health Practitioner Regulation Agency (AHPRA) of gaslighting injured patients instead of doing its job and protecting them.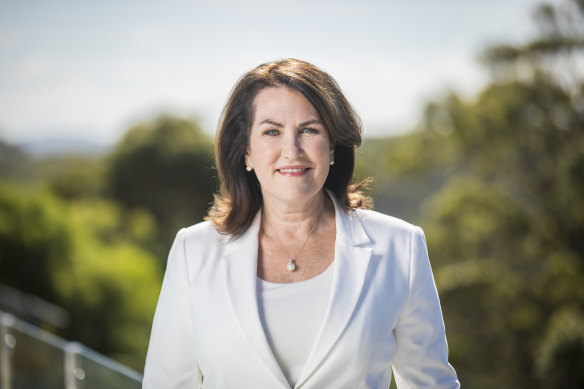 Senator Deborah O'Neill says the cosmetic surgery industry is dominated by economic vultures. Credit:Anna Kucera
O'Neill, who grilled APHRA CEO Martin Fletcher at a senate hearing late last year, said the industry had been allowed to develop into one that was dominated by economic vultures.
"AHPRA haven't just dropped the ball, they're not even in the game," she said on Friday. "This butchery of Aussies who've not been protected because of AHPRA failing to do their job properly simply cannot continue."
O'Neill said she was struck by the regulator's attempt to avoid her questions at the hearing last year.
"I've invested thousands of hours in senate hearings. It's very rare for a witness to act as Martin Fletcher did when I questioned him," she said. "You are the chief executive officer and the responsibility rests with you," she said at the time last October. O'Neill said that was when the excuses began. "And that is pretty much what happens when Australians interact with AHPRA. Excuses, the big fend and then gaslighting."
She called on Australians to beware of unscrupulous doctors motivated by greed. "They are not policed and there is huge, irreversible harm being done to Aussies who trusted doctors who took their money and then butchered them."
In a statement on Friday AHPRA said it was usual practice at committee inquiries for a CEO to be accompanied by senior subject-matter experts who could answer questions in more detail.
"Mr Fletcher only referred questions to subject-matter experts and the chair of the Medical Board when this would more fully inform the committee".
The statement said AHPRA had been actively engaged with many independent reviews and inquiries over the past 12 years and "all the reviews have been exhaustive and have recognised the integrity of our efforts and our genuine work to continuously improve our processes. None of these inquiries has found any fundamental flaw in the system of regulation – and instead have made helpful suggestions for continuous improvement."
O'Neill's comments follow a series of investigations by The Sydney Morning Herald, The Age and 60 Minutes into disturbing practices across the industry, including hygiene and safety problems and patients left deformed, and in some cases almost dying.
The sector allows doctors with basic medical degrees who have completed weekend courses to call themselves cosmetic surgeons, unlike plastic surgeons, who spend at least 12 years doing surgical and medical training.
Since the investigation began 10 months ago, hundreds of patients have come forward. Some complained of punctured lungs, nerve damage, constant chronic pain, psychological damage and feeling like they were in a slaughterhouse.
Fletcher, who has been in his role for 13 years, is due to front a media conference next Wednesday before the release of an inquiry into the cosmetic industry. The review was pitched as independent and wide-reaching, with a focus on social media.
The inquiry was triggered by this masthead's investigation in October into the biggest network of cosmetic surgery clinics in the country, the Lanzer clinics, which revealed safety and hygiene issues including photos of human fat stored in kitchen fridges, syringes sitting alongside water bottles in a fridge, nurses being told to use expired medication on patients and audio recordings of Daniel Lanzer telling staff to send a patient to a GP.
"You page me first, OK? We can handle everything. Sending to a GP is the worst possible thing you can do, or to a hospital, never, ever, ever … and it always creates problems."
Since then this masthead has done a series of joint exposes with 60 Minutes, uncovering more wrongdoing and highlighting more failings of the regulators.
The Herald, The Age and 60 Minutes obtained thousands of leaked WhatsApp messages between doctors and nurses at the Daniel Lanzer network of cosmetic clinics, as well as social media accounts, many of which were deleted, and found more damning behaviour.
One of the more shocking revelations came from scrutiny of Instagram accounts, which showed doctors performing surgeries in unregistered facilities, which was potentially illegal. This was under the nose of AHPRA, whose job it is to police social media.
Concerns are mounting that the terms of reference of next week's review are too narrow and victims weren't provided opportunities to appear in public and share their harrowing stories.
Even more concerning was the decision by AHPRA to appear in parliament in June, while the inquiry was under way, to support a proposal to lift a ban on doctors using patient testimonials in advertising.
This surprised the Australian Medical Association, whose president at the time, Dr Omar Khorshid, described it as "bizarre".
"[The ban] protects patients, in particular vulnerable patients, from false and misleading advertising," Khorshid said.
Consumer advocates Michael Fraser and Maddison Johnstone, who have developed software to police the sector, said if the laws were changed it would make the situation even worse.
"It's already a billion-dollar industry and I think that's largely due to social media. So, my big fear is that using testimonials to advertise cosmetic surgery, we are going to see a doubling of the issues here," Johnstone said.
Every few years there are scandals in the cosmetic surgery industry but until now little has been done. There have been multiple inquiries going back decades that produce reports that go nowhere.
The latest revelations have led to growing calls for a royal commission. Professor Allan Fels, the former chairman of the Australian Competition and Consumer Commission, believes the industry needs to be shut down for three to six months.
"This would achieve real change quickly and help overcome the lethargy shown by all involved – practitioners, regulators, politicians – in dealing with the continuing dangers to consumers arising from current widespread dangerous malpractices," he wrote in an opinion piece published by this masthead.
The Morning Edition newsletter is our guide to the day's most important and interesting stories, analysis and insights. Sign up here.
Most Viewed in Lifestyle
From our partners
Source: Read Full Article