For the 'sober curious', a booze ban is the next step in wellness
Shanna Whan's rock-bottom moment came on Boxing Day 2014. Processing the pain of another fertility failure, she had taken herself home from a family gathering via the bottle shop. Her next memory is of the emergency ward, hours after her husband found her passed out at the bottom of the stairs.
"I thought I was the only person in Australia living a double life where I was a high-functioning professional by day but drinking that much at night," says Whan, from Narrabri in north-west NSW.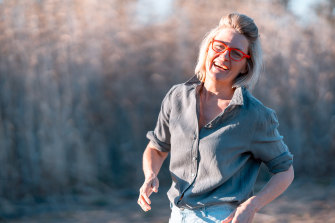 Shanna Whan is the founder of Sober in the Country.Credit:Tony Harrington
Five years sober next month, the founder of Sober in the Country, an online discussion forum and charity for regional professionals re-evaluating their relationship with alcohol, "never knew [she] would be able to be OK" without a drink.
"My mates still drink, but they have a beer and I have a soda water," she says. "It took a bit to get to that point, but once I was candid with them all it was easier."
Whan is part of a group of people, particularly women, cutting back on booze or cutting it out entirely. Through Sober in the Country, she has assembled a Facebook group of more than 500 people who have realised drinking isn't worth it for them.
"I now get messages from all over Australia and hear the same thing again and again, which is women [and men] saying they didn't identify as having a problem because they drink kale smoothies, or run five kilometres a day, or have a good haircut."
In her 2018 book of the same name, UK writer and alcohol-free event organiser Ruby Warrington called these trendy teetotallers the "sober curious", describing a more critical approach to alcohol consumption as "the next logical step in the wellness revolution".
There's seemingly a sobriety challenge for each month of the year, and once booze-soaked spaces are cleaning up to be cool. (Take the Birdcage at last year's Melbourne Cup carnival: Lexus' marquee sold itself on its low-alcohol and no-alcohol drinks while Elle magazine's took it one step further, hosting a dry event.)
"What the alcohol industry has done very well is promote this idea that alcohol is about reward," says Professor Dan Lubman, from Monash University's Turning Point Alcohol and Drug Centre. "Women have got a hard life, juggling a job and kids, and the reward is that you get to have a glass of wine and chill."
Whan says this can be a particular problem in drought-affected communities, where people may not have financial or geographical access to other ways of coping with stress: "Women in rural areas can't just piss off down to yoga, it's the pub or nothing."
While cutting back on alcohol may be trendy, Professor Lubman is hesitant to say it is a trend.
"We've seen a huge increase in alcohol consumption among women over the past 30 years," he says. While drinking among Australians in their 20s and 30s may be declining, women in their 50s and 60s are drinking more, something Professor Lubman says is "concerning" given alcohol consumption is one of the major modifiable risk factors for breast cancer.
"A lot more work needs to be done to show how healthy people can be by drinking less."
In 2011, Melbourne author Jill Stark took a year off drinking, chronicling her experience in a bestselling book, High Sobriety.
She gave up alcohol again six months ago and says it is the "single most helpful thing" she can do for her mental health. Comparing her experience nine years ago to now, Stark finds it is more socially acceptable to live a sober lifestyle.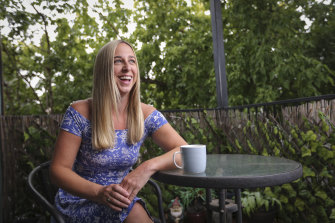 Jill Stark says it is easier to be a teetotaller now than when she first took a year off alcohol nine years ago.Credit:Wayne Taylor
"There are bars I can go to now and have an alcohol-free beer, which is not something that I could have done a few years ago."
For Stark, 43, the push is coming from the younger generation. Although she had her first beer at 13, she recalls a recent conversation with her 15-year-old niece, who told her she "didn't need alcohol to have fun".
"I think it could have something to do with Instagram and the 'fitspo' movement," she says. "Young people are more health-conscious than they used to be."
Although she is still often the only person at local get-togethers who is on the soda waters, Whan says the Sober in the Country movement has been "contagious".
"It doesn't have to be a beer and a BBQ, maybe it can be a hike and a BBQ."
Shanna Whan and Jill Stark will appear with Yumi Stynes in a conversation about the sober curious movement at the All About Women festival on March 8.
Source: Read Full Article