Europes Junior Doctors Demand Reform
Junior doctors across all 24 member countries of the European Junior Doctors Association (EJD) are experiencing significant job dissatisfaction. That is a key conclusion of a small but representative and in-depth survey conducted by the EJD and launched last week at their 2023 General Assembly in Murcia, Spain.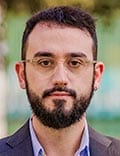 Álvaro Cerame
"The voice of our junior doctors signals an urgent cry for reform," Álvaro Cerame, MSc, chairperson of the EJD Medical Workforce Committee and first author of the report, told Medscape Medical News. "Our healthcare systems stand at a precipice due to the critical state of our medical workforce."
In Europe, "junior doctors" are medical graduates who continue to receive supervised training and work experience for several years, the number of which varies according to their specialty or the route they are aiming for following this period.
The survey involved structured in-depth interviews, either individually or within focus groups, with 25 junior doctors specifically selected to represent the 24 national medical associations of the EJD. It focused on the effect of their work-related experiences on their professional and personal lives. In addition to revealing a wide range of concerns and pressures, the report also highlights some proposals for the future.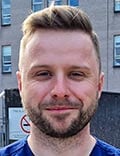 Dr John Cannon
John Cannon, MD, president of the Irish Medical Organization, who moved on from junior doctor to general practitioner status this year and was not involved in the survey, told Medscape Medical News: "The results are damning…Junior doctors are exhausted physically and emotionally…burnt out and out of patience. It is clear now that governments across Europe should take note and prioritize safe and legal working hours for the sake of both junior doctors and, more importantly, the patients they care for."
Many Concerns and Stresses
"A shared unease and job dissatisfaction are identified among the junior doctors, despite the differences and particularities of the countries where they work," the report says. The survey participants reported that increasing workloads, involving handling more patients than is sometimes feasible, is forcing junior doctors to make hasty medical decisions, often without adequate supervision. This creates a sense of insecurity and frustration.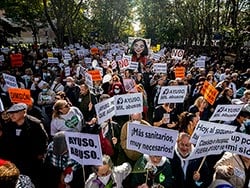 A demonstration for public health care in Madrid, Spain, on November 13, 2022.
Part of the dissatisfaction is attributed to what the report describes as a generational shift in expectations, with junior doctors no longer prepared to accept extended working hours, without fair financial compensation, as simply part of their vocational commitment. "Today's junior doctors seek a balance between their personal and professional life. Unlike previous generations that placed work at the center of their identity, contemporary junior doctors prioritize their families, personal time and personal and professional development," the authors write.
Evidence of the dissatisfaction and stresses comes in the form of resignations from direct clinical roles. The EJD report said there is an increasing trend of doctors moving away from patient care or outside of the medical profession altogether.
The excessive demands of the most stressful and understaffed positions are leading doctors to seek a shift to specialties seen as offering better working conditions. This is exacerbating the situation in the positions that are being avoided.
Female junior doctors also perceive continuing gender inequalities and influence from traditional gender norms, segregation favoring male dominance in specific specialties, biases against part-time workers, gender pay gaps, exposure to workplace intimidation, and even violence.
The large population of migrant junior doctors also faces distinct pressures due to limited training, restricted professional opportunities, and challenges in social integration.
Proposals for Action
The survey's responses generated several proposals for ways to improve job satisfaction and increase retention.Junior doctors stressed a need for governments to make the medical workforce a higher priority in policies and planning, with a call for greater investment. These investments need to be directed toward improved pay and proper compensation for additional working time to retain existing staff and make the profession a more attractive career choice. Investments are also needed to effectively improve working conditions, including high workloads and inadequate facilities.
The participants suggested that some significant improvements could be achieved by offering greater flexibility in shift patterns and changes that might increase a sense of stability and opportunity for professional progression.
In terms of personal well-being, the participants encouraged more attention to, and research on, the factors that could improve personal satisfaction, bonding with colleagues, and professional networking.
Inadequate ongoing training is identified as another key issue, with a call for more standardization of training across Europe, which would ease movement of doctors between nations.
Vincenzo Costigliola, MD, president of the European Medical Association, told Medscape Medical News: "This report is a good basis for reconsidering the current status of healthcare in Europe." But he emphasized that the difficulties facing junior doctors are only a limited part of a wider problem. He points out that similar complaints have been made by many doctors over the past 40 to 50 years, but "with few successes."
Looking toward future efforts by the EJD, Cerame said: "Many of the trends we've identified warrant deeper dives…While this research has unearthed significant insights, it has also laid out a roadmap for where our focus needs to be in the subsequent phases of investigation."
Andrew Scott, PhD, is a science and medical writer based in Perthshire, Scotland, UK.
For more news, follow Medscape on Facebook, X (formerly Twitter), Instagram, YouTube, and LinkedIn
Source: Read Full Article